This compelling, psychological drama unfolds in a world where choices are never simple and the line between right and wrong, heroes from villains is often blurred.
Regional Premiere of Robert Lipkin's Sweeter Than Justice
Closed Its Two-week Run at FSU Conservatory/Asolo's Cook Theatre
With A Sold-Out Performance
A fully staged, Equity production 
FROM THE CRITICS !!!!!!!!!
"Offers some fascinating characters in a real ethical conundrum. Playwright Lipkin, it would seem, is someone to watch."
                                  Creative Loafing
"Sweeter Than Justice proves that writer Lipkin at his best is capable of real eloquence. I look forward to seeing more of his plays."
                                   Creative Loafing
"There's a philosophical clarity to … this unusual play that should make it notable to anyone with the least concern for ethical puzzles."
                                  Creative Loafing
"… the sort of poignant, yet highly-accessible drama that has become all too rare in modern theater."
                                                                                                                         Bradenton Times
"What Geanina decides to do and how she goes about it are the intriguing center of the play …"
                                                                                                                        Sarasota Herald-Tribune
"… the cast includes some of the area's best theater professionals."
                                                                              Bradenton Herald
"… excellent original score by the prolific Joe Micals …"
                                                                             Bradenton Times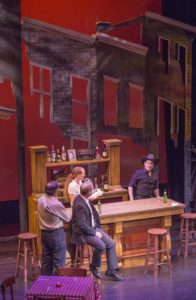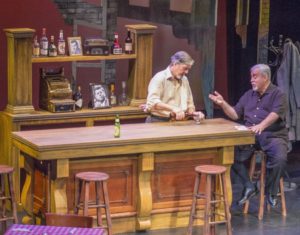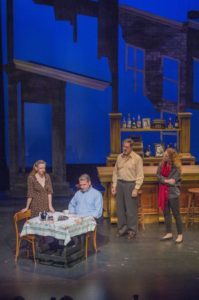 Sweeter Than Justice completed its, May 12 through May 22, 2016, two-week week engagement, at the FSU Conservatory/Asolo's Cook Theatre, located in Sarasota, FL.
A compelling psychological drama, Sweeter Than Justice unfolds in a world where choices are never simple, the lines between right and wrong are blurred, and it's hard to tell heroes from villains.
THE PLOT:
In 1963's South Philly, Geanina Palmieri, a young law student, matches her wits against the muscle of Philly's mob boss in this thrilling, plot twisting, drama. Only Geanina, the perfect hostile witness, can save the mob boss's son from the electric chair. …………… But will she? Her life is turned upside down until she discovers a path to prevail against her adversaries, but, as often happens, the results come with  unintended consequences.
THEME:
"Though set in 1963, the play offers a view of ourselves today," says the playwright, Robert Lipkin. "It examines how the healing powers of friendship, love, and justice are too often tainted by the more irresistible power of vengeance." Sweeter Than Justice leaves audiences wondering what they would do were they in Geanina's place."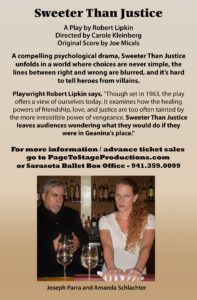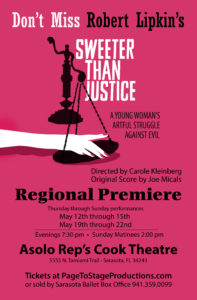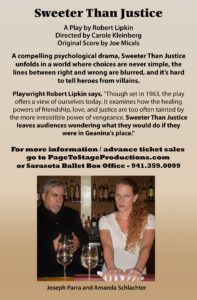 Carole Kleinberg, the productions's artistic director, said, "Lipkin is an exceptionally talented playwright and a gifted storyteller. After February's final staged reading, we have assembled a superb cast and crew for its Regional Premiere, in May, at Sarasota's intimate Asolo Rep's Cook Theatre. A beautiful original score, written for us by Sarasota icon and composer Joe Micals, captures perfectly the mood swings, arcs, and plot twists of the story."
Sweeter Than Justice featured a cast of seven experienced and highly skilled actors, including Amanda Schlachter, Don Walker, Joseph Parra, Dan Higgs, Rafael Petlock, Brianna Larson, and Tom Foley. "I'm blessed and fortunate to work with this wonderfully talented professional cast," adds Lipkin.
Sweeter Than Justice is being produced by                 Page To Stage Productions, LLC,  a professional theater company. The Regional Premiere was held at the intimate, eleven row, 161-seat Cook Theatre, located at 5555 N Tamiami Trail, Sarasota, FL 34243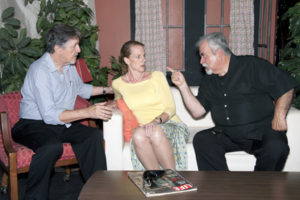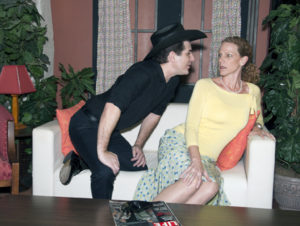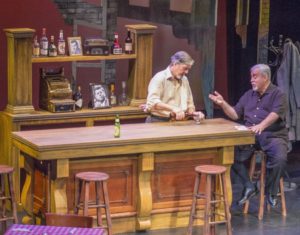 See More Performance Photos in Photo Gallery